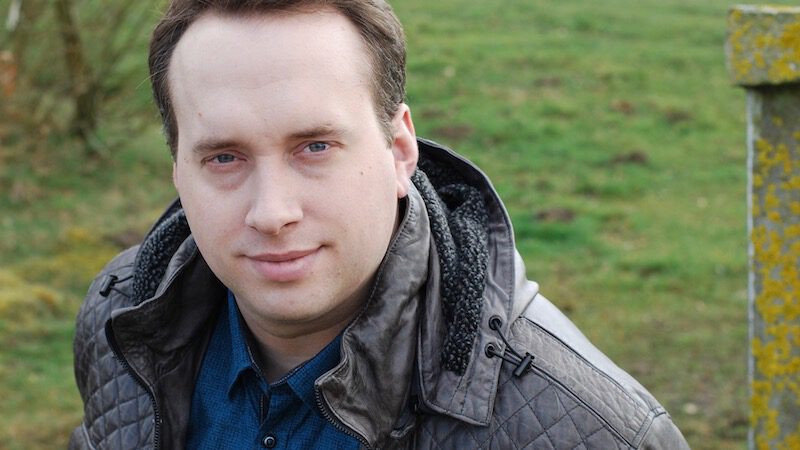 (en.) Stephan Langenberg is an educator, music theorist, conductor, arranger, and composer of contemporary vocal and instrumental music. Whether it's composition commissions, arrangements, studio or stage productions, it's secondary to the all-rounder from the Ruhrgebiet. Described by the WAZ as "rock with ambition," Langenberg's work is a stylistically assured and versatile blend of different genres and custom-made quality. After all, one can look back on a broad repertoire and a long list of various projects. This includes encountering pop songs, electronic beats, and distorted guitars, as well as works for choirs, orchestras, big bands, and extraordinary ensembles such as the Rockorchester Oberhausen. His compositions and arrangements are distributed worldwide by renowned publishers and are increasingly popular and recognized by his audience and in specialist circles.
Langenberg studied music education, holds a diploma in music pedagogy (Dipl.MuPä), and a master's degree in integrative music theory with a focus on composing, arranging, instrumenting, producing (M.Mus.) awarded by the Folkwang University of the Arts. In addition, he obtained the second state examination for the subjects of mathematics and music.
(de.) Stephan Langenberg ist Dozent, Musiktheoretiker, Dirigent, Arrangeur und Komponist von zeitgenössischer Vokal- und Instrumentalmusik in kleinen und großen Formaten. Ob es sich dabei um Kompositionsaufträge, Arrangements, Studio- oder Bühnen-Produktionen handelt, ist für den Allrounder aus dem Ruhrpott eher zweitrangig. Von der WAZ als "Rock mit Anspruch" beschrieben, zeigt sich Langenbergs Schaffen als eine stilsichere und vielseitige Mischung verschiedener Genres und maßgefertigter Qualität. Schließlich kann man auf ein breites Repertoire und eine lange Liste verschiedenster Projekte zurückblicken. Dabei begegnet man Popsongs, elektronischen Beats und verzerrten Gitarren genauso wie Werken für Chöre, Orchester, Bigbands und außergewöhnlichen Formationen wie dem Rockorchester Oberhausen. Seine Kompositionen und Arrangements werden weltweit durch renommierte Verlage vertrieben und erfreuen sich bei seinem Publikum und in Fachkreisen zunehmender Beliebtheit und Anerkennung.
Langenberg studierte Schulmusik, besitzt ein Diplom für Musikpädagogik (Dipl.MuPä) und einen Masterabschluss für integrative Musiktheorie mit den Schwerpunkten Komponieren, Arrangieren, Instrumentieren, Produzieren (M.Mus.) verliehen durch die Folkwang Universität der Künste. Darüber hinaus erwarb er das 2. Staatsexamen für die Fächer Mathematik und Musik an Gymnasien und Gesamtschulen des Landes NRW mit der Fakultas für die Sekundarstufe II.
Downloads
---